What You Can Buy for $700,000 in Rhode Island
Looking for the right house at the right price? Not easy in today's high-demand real estate market.
The folks at Mott & Chace Sotheby's International have selected a collection of homes from across the region in the $700,000 price range.
Take a tour.
GET THE LATEST BREAKING NEWS HERE — SIGN UP FOR GOLOCAL FREE DAILY EBLAST
42 Park Avenue | Warwick | $799,900
Listed by Katina Lemme 
Tranquility and peace! Walk down the abutting path, strolling through a bird sanctuary, to beach access with stunning ocean views right from your home. Unique opportunity to own a legal multi-family zoned home and cottage, beach access to Long Meadow Fishing Area/Beach with a great location for kayaking. Completely renovated and rebuilt in 2007 with an addition added on, here are just some of the features of this custom home. Oversized lot with 3 to 5 possible beds, 4 1/2 baths, huge master bedroom with a gorgeous walk-in closet, hardwoods throughout, mahogany trim throughout, sprinklers, radiant heat flooring including floor of 2 car oversized garage, 27′ x 29′ great room/media room, wired for surround sound in living room/master bedroom/great room, 8 outside water spigots including one near garage offering hot and cold water, solar heat is almost ready to use with a few updates, two 220 amp circuits in garage for possibly electric car charging station, generator hookup available, even heated wall tile in master bedroom shower! Don't miss your opportunity to view this very special property. Includes a full in-law or 1-bed cottage with 3 separate entrances, for rental income of approximately $15,000 annually.
283 Middle Highway | Barrington | $669,000
Listed by Ben Scungio
Classic four-bedroom, two-bath colonial with spacious eat-in kitchen, replacement Pella windows, recently installed a/c, roof, and generator. The first floor offers a generous living room with a gas fireplace and dining room. The second floor offers 4 bedrooms. Hardwood floors throughout the first and second floor. Entertaining is easy with the oversized private backyard with an in-ground pool and patio. The partially finished basement is perfect for storage or a workout area. The bike path is within 2-minutes and the beach is a short 5-minute drive.
27 Oak Forest Drive | Little Compton | $699,000
Listed by Kim Marion
An amazing opportunity to live in a private retreat in the highly coveted Oak Forest neighborhood in this story-book Dennis Talbot home! Talbot homes are well-known as a gold standard of quality construction in Little Compton. You will embrace the beauty of every season surrounded by numerous walls of windows, cathedral ceilings with natural wood beams, and a glassed three-season room opening to a large deck. The focal point of the living room is a massive wood-burning brick fireplace. Additionally, enjoy the warmth of the wood stove in the dining area. The first-floor bedroom overlooks a tree-lined street and stone walls. Upstairs you will find the primary suite, walk-in closet, full bath, and loft office space with clever built-in storage. Just minutes to the beach and town Commons, farm stands, and the trails at Simmons Mill Pond, you'll enjoy the best that Little Compton has to offer. Situated on nearly 4-acres in a wonderful neighborhood, you can walk and meet your neighbors while still having the peace and quiet you expect in the country. The lovely acreage surrounding the house creates the perfect summer retreat or full-time residence for the nature lover. The home features too many upgrades to list; including a 40-year roof with warranty, Anderson skylights, propane heating system, Kohler generator with OnCue Monitoring System, AcquaScience water filtration system, Pioneer Dehumidifying System, and ADT Security system.
The folks at Mott & Chace Sotheby's International offer a range of East Side of Providence investment properties.
These three multifamily momes are offered for sale from $599,000 to $899,000.
GET THE LATEST BREAKING NEWS HERE — SIGN UP FOR GOLOCAL FREE DAILY EBLAST
52 Cole Avenue | East Side of Providence | $745,000
Listed by Lise Holst
Very special well-maintained 3-family in a prime location on Cole between Lloyd and President. Three spacious and bright units with lovely period details and extensive updates. The 1st and 2nd-floor units feature fireplaced living rooms, dining rooms with built-ins, updated kitchens and baths and two good-sized bedrooms each. The 3rd floor unit offers a living room, three bedrooms and a delightful sunny new eat-in kitchen with views out over the neighborhood. Hardwood floors throughout, replacement windows, new roof, freshly painted exterior, new backyard patio. Hard-wired for smoke/co. Parking for 4+ cars. This outstanding property is perfect for owner-occupiers or investors.
232-234 Williams Street | East Side of Providence | $899,000
Listed by The Blackstone Team
232-234 Williams is a legal three-family home with 11 bedrooms and 4 bathrooms that is within close proximity to Brown University, Rhode Island School of Design, Wickenden Street, Downtown Providence and Narragansett Bay. Every local amenity is at your fingertips–within a short walk. The home is currently an investment property, but could also make for a beautiful owner-occupied house where the tenants help pay your mortgage. 1st, 2nd, and 3rd floors are identical in layout–all 1400 sqft 3 bed 1 bath units with large kitchens, double parlors and outdoor porches. The 1st and 2nd floors will be delivered vacant by closing. Rent potential depending on finishes are between $2200 and $2800/month each. The 3rd floor needs updates due to a long-term tenant, who will vacate by mid-October. The 4th floor is a stunning 1100 sqft 1 bed 1 bath suite–modernly updated and finished. 3rd and 4th floors could be easily added together for a 2,500 sqft 4 bed 2 bath owners' unit. Heat for each unit is separate forced hot air. Parking for 4 cars. Exterior has recently been reshingled and painted.
80 -82 Eighth Street | East Side of Providence | $599,000
Listed by Kim Marion
This immaculate two-unit home on the East Side of Providence is an absolute gem. Both units are spotless! The totally updated first-floor has two large bedrooms, one full bath, living room, and large dining room as well as lots of storage. The kitchen is modern with contemporary stainless appliances. Upstairs you have even more space with three bedrooms, a home office, full bath, living room, dining room, and a quaint enclosed screened porch. Both units have lovely hardwood floors, no refinish needed and laundry is individual in the basement. We have already completed a home inspection so you can buy this property with no worries. Enjoy the short walk to all of the restaurants and shops on Hope Street! Close to the best private schools, universities, and hospitals. Newer mechanicals, central AC, and its superb condition make this building one you would be proud to live in, or own as an investment property that will pay you back for years to come.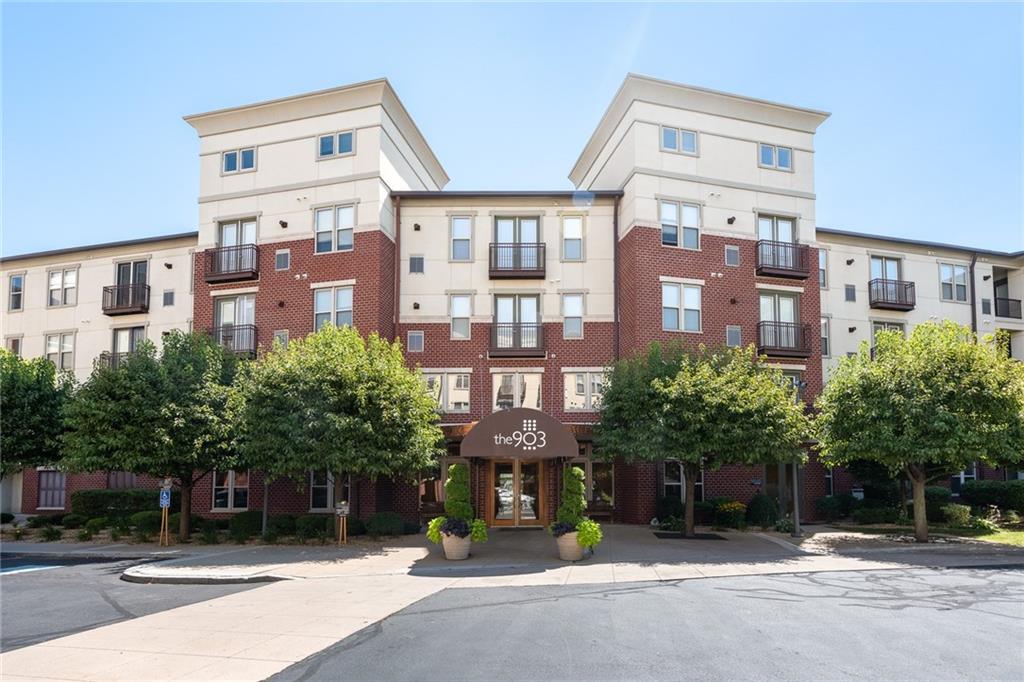 Best Value, Cool Condominiums in Providence
---
Take a look a collection of condos in Providence for no more than a tad over $500,000.
The folks at Mott & Chace Sotheby's International Realty have put together some great suggestions for you.
GET THE LATEST BREAKING NEWS HERE — SIGN UP FOR GOLOCAL FREE DAILY EBLAST
Multiple Units Available
Listed by The 903 Residences Specialists
Just footsteps away from everything that downtown Providence has to offer the 903 Residences provide a tranquil oasis to call home when you are not exploring the city. On your downtime enjoy the unprecedented amenities at the 903 including a 24-hour fitness center, resort-style swimming pool, Jacuzzi, surround sound movie theater, clubhouse, concierge, and garage parking with electric car charging stations. With a variety of studio, one-bedroom, and two-bedroom homes the 903 has something for everyone. The apartment homes feature all the conveniences and fixtures one desires such as central air, in-home washers and dryers, and modern kitchens with stainless steel appliances.
87 Cooke Street #2 | East Side of Providence
$399,900
Listed by Sam Glicksman
Housed in a Historic Tudor Victorian, this elegant two-bedroom condominium is highlighted by a private entrance, beautiful stainless/granite kitchen, hardwood floors, fireplace, fenced-in patio, large windows, high ceilings & crown molding. Other features include an entry foyer, in-unit laundry, in-fee hot water, storage & assigned parking. Centrally located within walking distance to Wayland Square, Thayer, Brown, RISD, and Downtown restaurants, shopping, and transit.
$515,000
Listed by Stephen Antoni
Beautifully appointed two bedrooms and two bathroom corner unit with sweeping views of the Eastside and river located on the 11th Floor in Providence's luxury high-rise at Waterplace residences. 1,200 square feet of living space with top-of-the-line Bosch stainless steel appliances, granite counters, marble counters in bathrooms and great storage space. The unit comes with deeded indoor, underground parking and a storage unit. Full-service amenities with 24-hour concierge service, fitness center, rooftop terrace, community room, restaurant, and much more. The convenient downtown location is a short walk to the train station that can connect you to Boston in less than an hour or RI's International airport in 20 minutes. Enjoy the great restaurants, cultural and educational places to visit in Rhode Island.
In February 2021, the median asking price for a newly listed single-family home in Rhode Island increased by 4.3%, while the median home price of sold listings increased by 16.4% when compared to last year. Sellers of well-priced homes are often receiving multiple offers that create bidding wars. Kim Marion, Sales Associate at Mott & Chace Sotheby's International Realty, has some exceptional tips for buyers navigating the current real estate market.
71 Tilden Avenue, Newport RI 02840
1 . Connect with a Realtor
As the trends hold strong by way of historically low inventory and increased sales prices, Kim advises to first and foremost connect with a great local Realtor. This may seem obvious, but it is critical. "Partially for negotiation tips", Kim said in a recent GoLocalProv interview, "but also because Zillow and some of the other sites aren't being constantly updated. Buyers may get excited about a property they see online, call their agent, and it's already under contract. That is a challenge." Real estate agents have access to the Multiple Listings Service (MLS) and properties that are not listed on MLS, referred to as Non MLS listings. Buyers are not likely to know about Non MLS listings when searching without an agent.
In addition to MLS, the real estate specialists here Mott & Chace Sotheby's International Realty offer clients the award-winning home search platform, RealScout. With listing information sourced directly from MLS, the details provided are always accurate. RealScout features property photos as the basis of the search platform, allowing buyers a simple and fun way to make decisions about their interest in a property. The tool customizes alerts for each clients' specific, unique, and personal wants and needs.
Kim's tip is to work with a real estate agent who can compile comparable properties from the last six months. "The market has changed considerably since 2019 and even early 2020. Looking at the last six months of sales is extremely important, and it can be hard to interpret without professional guidance".
2 . Get Pre-Approved
This piece of advice, says Kim, comes with a couple of caveats. First, pre-approved buyers should not assume that pre-approval is everlasting. "Buyers should have a current pre-approval. They typically last about 30 days." Another caveat, buyers should be working with a local lender. "I can almost guarantee buyers will do better with a well-known local vetted lender."
Kim's tip is to approach every listing as though it's 'the one'. Build a team inclusive of a trusted realtor and local lender ready to act at moment's notice. This is crucial in a hot market when properties are moving quickly.
3. Negotiate Terms
"Everything in life is a negotiation," Kim says, "when buyers think about the house, they are thinking about highest and best price, getting the offer in as quickly as possible, and the potential of having to offer more than the asking price". There are, however, a few other ways a buyer could make their offer most attractive to sellers.
Inspection: One option is to waive the inspection completely, although this is not usually advised. A buyer could, however, have the inspection done for informational purposes only. "If a seller sees 'for the buyer information only' they can interpret that to mean this buyer may find something wrong, but unless it is a major defect (like a safety issue), they aren't going to ask for it to be fixed." Kim notes sellers may find relief in knowing this buyer isn't going to nit-pick over every little broken thing.
Appraisal contingency: If buyers have funds available, they could forgo the appraisal contingency. This would mean if the bank values the home for less than the buyers accepted offer price, the buyer will pay the difference in cash. This eliminates the need for the buying and selling parties to have to renegotiate the purchase price.
Escalation Addendum: Buyers should use an Escalation Addendum in all of their offers. In an unpredictable market like this one, many assume a home is going to sell for thousands over the asking price, but it might not. An Escalation Addendum works this way: if a home goes up for sale and buyer and their agent suspect it will sell for higher than list price, the buyer will make an offer of the amount of their choosing. The buyer would then add an Escalation Addendum that says they will pay a certain amount over any other viable offers, up to a "highest and best" amount decided on in advance. For example, the offer would look like this: "We offer $550,000 for the property, and $2,500 more than any other viable offers up to $570,000." The Escalation Addendum is designed to protect buyers from overpaying in the event that there are no other offers between the highest price a buyer willing to pay, and the asking price for the property. The listing agent must show other higher offers to the buyer's agent to justify that increase in price dictated by the Escalation Addendum.
Stuff: Offer to clean out the seller's unwanted items! One of the universally agreed upon truths is that moving is a pain. Buyers could make moving easier on the sellers by offering to get rid of old and unwanted items left behind and take on the clean-up of the property.
Earnest Money Deposit: Or EMD, is the money a buyer sends with the offer. Typically a $500-$1,000 deposit, buyers could consider offering a larger sum. While it may put the buyer at a little more risk, it shows the seller the degree of interest the buyer has in purchasing the house.
Kim's tip is to mix some of these terms, when possible, together to add even more strength to the offer! When the market is hot, making the transaction as easy as possible on the seller might just be what wins them over.
4. Stay True to Your Limits
When the market is competitive, Kim reminds her clients to consider the emotional urgency. While one property may seem like the dream home, another house could come along that is better – or at least great. Overspending, just to stay in the game, can have consequences. "Interest rates are at a historic low so there may be a balance when borrowing more than the originally anticipated budget", says Kim, "but there is nothing worse than living in a beloved home and barely being able to afford it."
Kim's tip is to find out as much as possible about the property before making an offer. "Don't make a bad decision," Kim warns. "Buyers in this market may only get fifteen minutes in the house to look around and then have to make a decision worth hundreds of thousands of dollars."
5. Search the Seller  
"Not to be creepy," Kim laughs, "but because Rhode Island is so small. The buyer may have a connection with the current owners – and not even know about it!" It is not unlikely in Little Rhody to have something or someone in common with a seller – and that may just be the thing that wins interested buyers the property. "People make decisions about homes that are emotional. Buyers are eager and excited, and sellers are equally emotional. The sentimental history plays a part in how sellers value their home.
Kim's tip is to try to connect buyers and sellers on a personal level so buyers can get their dream house.
Kim's final (bonus!) tip for buyers in a competitive market is this: "This is a moment we are in and seasoned agents know how to handle it. Buyers will likely have to make multiple offers before landing a home, so be prepared for an emotional journey. Get into the mindset of staying hopeful, staying ready, and trusting your agent. A great agent is going to help buyers make it happen."
129 Laurel Ridge Lane | North Kingstown | $649,900
An inviting custom-built storybook cape complete with a white picket fence! An addition to the back of the home extended the kitchen and dining area as well as added a screened in porch and octagonal shaped deck. An entertainer's dream come true with its open floor plan, cozy fireplace and abundance of natural light. This home has been thoughtfully maintained with all new replacement windows throughout, a new hot water heater and recent interior paint.
4 Bedrooms | 2.1 Bathrooms | 3,005 Square Feet
Listed by Donna Conway | 401.241.3971 | donna.conway@mottandchace.com
This one-acre vacant lot is a wonderful opportunity to build in stunning Chace Point, Little Compton! Your dream home will have water views and allow you to live just steps from the beach in this sought after exclusive community. This fantastic neighborhood is just minutes from the town Commons and all of the peace and tranquility for which Little Compton is known. Four-bed ISDS approved.
Vacant Lot | 1.11 Site Acres
Listed by Kimberly Marion | 401.692.1644 | kim.marion@mottandchace.com
The stone walls and crisp white colonial will catch your eye, and the classic new England red barn, in-ground pool, and light-filled studio will seal the deal. This stunning home is set on 10.5 acres and has been meticulously maintained. The property is inclusive of a separate one-bedroom guest suite with bath, kitchen and private entrance. The interior of the main home features stunning hardwood floors, large formal living and dining rooms, two family rooms with fireplaces, a den/study with built-in bookshelves, and a three-season sunroom.
4 Bedrooms | 3.1 Bathrooms | 3,508 Square Feet
Listed by Kimberly Marion | 401.692.1644 | kim.marion@mottandchace.com