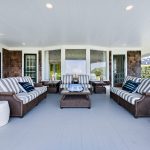 Watch Hill, RI (June 16, 2017): Mott & Chace Sotheby's International Realty is pleased to announce the exclusive right to sell for the property located at 12 Westerly Road, Watch Hill, RI for $8,200,000. Wickiup, originally built in 1900, has been completely renovated and restored. One of the quintessential Watch Hill Legacy Homes, Wickiup is on the National Register of Historic Places and can be viewed here.
The eight-bedroom home offers impressive ocean views and a wine cellar in 4,678 square feet of living space. Additional highlights include 6.5 new bathrooms, a new kitchen and central air.
Wickiup was built by the Stanton family, descendants of one of the original founding families of Rhode Island and relatives of the famous General Stanton. Just a short walk to the village and beach, Wickiup is listed with Donna Simmons, Sales Associate with Mott & Chace Sotheby's International Realty.
ABOUT MOTT & CHACE SOTHEBY'S INTERNATIONAL REALTY
With a combined history of success and a reputation for representing Rhode Island's finest properties, Mott & Chace Sotheby's International Realty was founded by Judy Chace and Ray Mott. The firm of over 130 agents have an established record of providing exceptional customer service to their national and international clientele with six offices in Rhode Island in Barrington, Charlestown, East Greenwich, Narragansett, Providence and Watch Hill. Mott & Chace Sotheby's International Realty combines local expertise with a world-renowned brand. Sotheby's International Realty network includes over 20,000 sales associates in approximately 880 offices in 69 countries and territories. Each office is independently owned and operated.
For more information, visit the website at mottandchace.com