Head south toward Washington County where luxury seeps along the Rhode Island coastline.  Balmy summer breezes entice locals and vacationers alike. Traveling along route 1, we stop first in Narragansett. Standing tall against the vast expanse of Narragansett Bay, The Towers offer a grand welcome to the luxury homes beyond its archway. Water views pair well with condominium luxury at properties like 101 Ocean Road, Unit 102. Modern and convenient, this two-bedroom space offers a luxury take on beachfront living. For a sophisticated, historic twist on Narragansett luxury, the private abode at 46 Earles Court offers extensive Victorian details just a short walk to the center of town.
Following the Rhode Island coast, Charlestown emerges. Home to our flagship office, this remarkable community is rich in waterfront luxury and plenty of land for expansion. 68 Gray's Point Road offers an impressive estate resting in a private enclave on the water. A substantial deck that spans the width of the back of the home allows room for generous outdoor entertaining. Indoors, you will find unique luxury components that include a bowling alley, billiard space and bar. Looking to build on the water in Charlestown? The exclusive community of Quonochontaug still offers space for your dream home. The prime waterfront land at 4 Wells Lane on Ninigret Pond presents over 10 acres to explore your dream.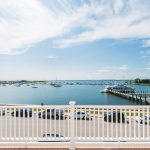 As our tour continues, the westernmost part of the Ocean State appears on the horizon. Watch Hill: where luxury residences and swanky boutiques cultivate the culture of this elite, captivating beach retreat during the summer months. Offerings like 20 Plimpton Road present a piece of Rhode Island history for sale that spans two buildings and is just a short walk to the beach. Built for J.F. Champlin, proprietor of the world-renowned Ocean House, this property is at the heart of summertime amenities. For the epitome of condominium luxury, we look to the penthouse at The Watch Hill Inn at 38 Bay Street, Unit 201/202. Unmatched views and refined updates make this 1845 construction the pinnacle of opulence.
Stay tuned for more insights on a selection of some of Rhode Island's finest luxury homes.