Originally composed largely of farmlands, Barrington quickly grew into to a brick-making town in 1847 resulting from the discovery of significant clay deposits. Once the railroad was laid in 1855, commuting between Providence and Barrington became more commonplace and the town continued to develop. During this time, emergence of private clubs that housed leisure activities for the wealthy grew within the town.
Perhaps one of the most notorious historic buildings in Barrington is the majestic Barrington Town Hall. Part of the Barrington Civic Center Historic District, the Town Hall building was constructed in 1887-88 by Providence architects Stone, Carpenter and Wilson. The two towers that accentuate the structure are built entirely of boulders; many of which were collected from local farms while others were inscribed as memorials.*
A town known for its many fronts of water access and beaches, timeless elegance is abundant in Barrington. Consistently boasting National Blue Ribbon Awards for its schools, the desire for life in Barrington continues to grow. We are pleased to present to some of the finest in historic Barrington homes.
Originally designed in 1912 for the home of the businessman William Parker Sargeant, this four-acre, beachfront escape features two separate buildings: the main six-bedroom home and a separate one-bedroom, 2,500 square foot carriage house. Painstaking efforts have been taken to honor the integrity of the property: original carved gumwood paneling and inlaid hardwood floors are just two examples. The original landscaping design by the Olmstead firm is registered at the Frederick Law Olmsted National Historic Site. The property with sweeping views of Narragansett Bay also includes a 1.9-acre buildable lot for future division or expansion. 305 Rumstick Road is offered at $3,850,000 by Judy Chace and Heidi Farmer Piccerelli. Click here for full listing details.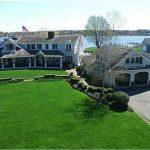 Life on the Barrington River meets historic waterfront luxury at this 8,000 square foot home. Originally built in 1900, this Adams Point abode includes a deep water dock. Boating and outdoor living are complimented by an outdoor shower and gas outdoor fireplace and barbecue area. An open floorplan on the first floor provides a harmonious contrast of original detail with updated amenities. A butler's pantry and a formal living room add to the refined living experience. Complete with separate guest quarters with French doors to the stone patio, this Barrington estate is a water-lover's dream. 140 Adams Point Road is offered at $2,450,000 by Helen Macdonald and Midge Berkery. Click here for full listing details.
Overlooking Barrington Beach and Narragansett bay this home skillfully marries historic original elements with modern upgrades. The seven-bedroom private circa 1916 escape offers seaside luxury with first-floor guest bedroom and bathroom away from the main quarters in the home. Sophisticated original built-ins and wood-burning fireplaces embrace the original architecture of the home while central air conditioning and a heated garage provide modern luxury life in Barrington. 70 Clarke Road is offered at $3,2000,000 by Heidi Farmer Piccerelli. Click here for full listing details.
*Information from the Rhode Island Historical and Preservation Society Database