A front runner of the Industrial Revolution in America, Providence and its surrounding areas saw dramatic development and growth that remained steady right through the early 20th century. Samuel Slater, deemed "The Father of the American Industrial Revolution," brought knowledge of the cotton mill with him to Rhode Island from across the pond. With Slater's knowledge, and the financial backing of the well-known Brown family, Slater Mill was born. The Brown family had extensive ties to the city of Providence, particularly the East Side: home to both Brown University and Moses Brown School. The well-known slave traders eventually abandoned the trade to invest their time and money into the industrialization of our state.
Michael Young, Broker Associate with Mott & Chace Sotheby's International Realty notes that there is a marked progression of architectural change as the East Side began to expand. "As you travel from downtown up to College Hill, from Benefit to Hope Streets, Colonial homes and cottages are prominent. Though these homes appear modest, they were generally built for prosperous families," remarks Young. "Moving further east towards Blackstone Boulevard and Grotto Avenue, newer 20th century Georgian and Neo-Colonial homes become more prominent."
As a result of this rich and extensive history, the East Side of Providence has no shortage of historic homes. In fact, the East Side of Providence has been such a desired location for home buyers, that the Rhode Island Statewide Multiple Listing Service has assigned the area its own municipal designation: ESID. We are pleased to present a sampling of some of these East Side of Providence historic homes.
Built in 1878, this three-story Victorian offers 7,400 square feet of living space on a corner lot with an eight-car garage and exquisite new patio for entertaining. An elegant mahogany and red cedar front porch with marble parquet terrace extends the length of the front façade of the William F Sayles House. This sophisticated period home embraces all the intrinsic historical beauty of Second Empire homes married with extensive upgrades, amenities and updates befitting this stately abode. Located in the heart of College Hill, this exclusive residence is within walking distance to area amenities including Brown University and Rhode Island School of Design. 103 Prospect Street is currently under contract with listing agent Heidi Farmer Piccerelli. Click here for full listing details.
Notable architects, Clarke, Howe & Homer, incorporated Georgian-derived details throughout this home's sophisticated Victorian design. Originally, this circa 1894 home was once the sole home on the block of desirable Blackstone Boulevard. Varying elements and materials lend itself to the unique aesthetic of the designers. Decorative brick chimneys, wood shingles and sandstone trim and multi material gabled roof lines, offer unique and captivating architecture. 219 Blackstone Boulevard is offered at $1,975,000 by Judy Chace and Tanya Ouhrabka. Click here for full listing details.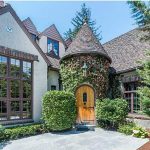 The Max L. Grant House built by architect Phillip Franklin Eddy is just steps away from area shops and restaurants. The circa 1910 storybook Tudor highlights period-sensitive details throughout. Extensive renovations allow for all modern conveniences and the home includes two master suites. Just past the Shire-inspired front door, a wrought iron gate leads to a magnificent foyer featuring a grand staircase cascading down to an antique, marble floor. 90 Hazard Avenue is offered at $1,699,000 by Midge Berkery. Click here for full listing details.
Join us as we explore more historic homes throughout our state during our Historic Homes Lifestyle feature week.