From the Post-medieval English period to Colonial Revival, historic homes are peppered throughout New England communities embracing an enchanting walk through history in architecture. From the earliest Rhode Island settlers in the mid-1600s, abundant historical architecture in our capital city is not surprising.
Colorful Colonial Revivals sweep the walkable streets of College Hill while massive government buildings flood the streets below. The iconic Providence City Hall building, part of the Historic Downtown District, has been a city presence since 1874. The building is virtually unaltered from its original state and still operates as its initial intended use.
Many of the Ocean State's historic homes date back to Pre-Civil War decades. While views of homes placed in neatly spaced rows on the East Side of Providence provide an impressive view of the city side, majestic sprawling estates in Watch Hill embrace a more rural, quiet air. Where luxury meets the ocean in Newport, breathtaking mansions steal the show. The bustle of the Waterfront Business District is home to the pulse of urban living enveloped by historical significance.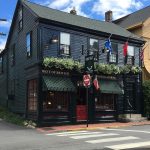 Entire residential areas and streets in Rhode Island are on the National Register of Historic places. With our state's rich and extensive history, virtually every municipality captures a piece of Rhode Island history. Join us while we explore some of these homes as we travel through time during our Historic Lifestyles week here at Mott & Chace Sotheby's International Realty.
Click here for some words from the Sotheby's auction house about the significance of historical properties.